Wall ties are a fundamental and essential element for providing stability to a cavity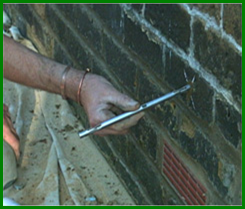 wall structure.
They tie the external, weather-protecting façade to the inner leaf and main body of the building, meaning the load is shared by both the inner and outer walls. This is typically carried out during construction.
Unfortunately, walls ties can fail due to a number of reasons. Most typically, the natural aging process of the building causes the metal to corrode. Corrosion can cause the tie to expand up to SEVEN TIMES its normal size! This weakens the building by compromising the wall's load-bearing capability. But it can also cause additional difficulties, such as lateral cracking, which allows even more moisture into the building, resulting in even more problems.
Wall ties – How Swiftcure can help
We isolate the existing ties and insert a new, stainless steel tie, anchored in a two-part epoxy resin and capable of holding in excess of 2.5kN*. These machined ties are installed externally (meaning no disruption to you or your decorations) and can be used in most building materials, including brick, lightweight blockwork, timber and mortar..